---
Ohio Produce Network Still A Go!
We look forward to seeing you at the Ohio Produce Network, formally known as the OPGMA Congress. The event is going to be taking place on January 17-18, 2022 at the Columbus Airport Marriott. The address is 1375 N Cassady Avenue, Columbus, OH 43219.
Room rates are $118 and will be released on Monday, December 27, 2021. Call (614) 475-7551 to make your reservation for this event. You can also book your room by clicking here. Be sure to book in the OPGMA block to get complimentary breakfast and parking!
OPGMA recommends that all attendees adhere to the City of Columbus Executive Order that requires that face masks be worn by individuals age 6 and older while in indoor spaces accessible to the public. We recommend you adhere to the social distancing guidelines set forth by the CDC, to ensure the safety of you and your families. Thank You!
An inherent risk of exposure to COVID-19 exists in any public place where people are present. By attending the Ohio Produce Network, January 17-18, 2022 in Columbus, Ohio, attendees voluntarily assume all risks related to exposure to COVID-19 and hereby release the event organizers, and its directors, employees, licensees, consultants, independent contractors, sponsors, hotel venue, and other participants from any and all liability from property damage, personal injury, or other claims arising from or in connection with my participation in the 2022 Ohio Produce Network, including claims known and unknown, foreseen and unforeseen, future or contingent.
What is OPGMA?
The Ohio Produce Growers & Marketers Association (OPGMA) is an organization of Ohio produce growers and marketers who have consumer and processor satisfaction, environmentally friendly practices, business success, and the provision of fulfilling career opportunities for family and employees as their primary goals. These goals are accomplished though premier innovative educational programs, a legislative presence, and cooperation among members. It is also important for OPGMA to encourage and support the production of exceptional crops, improve the business intelligence of its members, and expand the consumption of Ohio-grown fruits and vegetables through improved marketing and retail operations. OPGMA provides educational and business development opportunities to any businesses associated with the production and marketing of Ohio's fresh produce.
In January 2007 the memberships of the Ohio Fruit Growers Society, Ohio Vegetable and Potato Growers Association, and Direct Agricultural Marketers Association merged to form Ohio Produce Growers & Marketers Association. The new organization was formed to streamline the educational and promotional activities of the state's produce grower's and marketers. OPGMA has been designed to aid in providing educational opportunities to business owners, employees, and families associated with the production and marketing of the state's fresh produce industry. Promoting the consumption of fresh fruits and vegetables will also be an important goal.
Volunteers who are engaged in production and retail govern OPGMA. It is for the industry and by the industry. A member-centric organization, you can expect to feel like you're a part of the OPGMA family when you join us as a member.

---
What is OPMA?
Protecting the well being of our customers should be your number priority. It has been one of OPGMA's critical issues for several years. Throughout the year, we offer articles and other learning opportunities on this topic.
OPGMA established the Ohio Produce Marketing Agreement (OPMA) in 2009 to formally address the increasing fears about biological contamination in our fresh food products. OPMA is a state-wide voluntary program that provides a framework for food safety strategies on your farm and inspections for those farms that require it. It is officially approved by the Ohio Department of Agriculture.
OPMA is governed by a separate board of directors and is currently affiliated with OPMGA through management services only.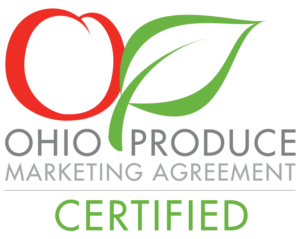 ---
Ohio Produce Growers & Marketers Association
6870 Licking Valley Road
Frazeysburg, Ohio 43822
(740) 828-3400